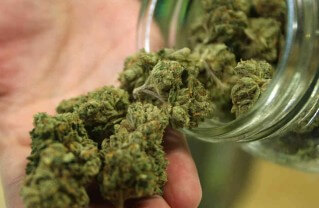 Marijuana is the most common and popular drug throughout the United States and New Jersey. A large portion of marijuana cases actually only involve a few grams of weed or less or sometimes just the remains of a smoked blunt or roach. Moreover, more marijuana arrests involve a motor vehicle stop so it is common for marijuana possession crimes to be coupled with other related charges such as Drug Paraphernalia and CDS in a Motor Vehicle. If you are convicted for possession of marijuana, it will result in a permanent criminal record for possession of a controlled dangerous substance and can also expose you to probation and even up to 6 months in county jail. An experienced marijuana defense attorney can often challenge the state's case and work with the prosecution to secure a downgrade, dismissal, or admittance into the Conditional Discharge program. As founding attorney, Will Proetta, Esq., has handled literally thousands of criminal and municipal court charges including numerous cases involving possession of marijuana.  At Proetta & Oliver we defend clients against marijuana charges throughout New Jersey including Hoboken, Union City, Secaucus, Newark, Weehawken, Kearny, and Jersey City. If you would like to learn more about how we can help you, then contact us today at (201) 793-8018 to speak with an experienced criminal defense lawyer or to schedule an appointment at our Jersey City office.
2C:35-10(a)(4) Possession of Marijuana under 50 Grams
Every year there are thousands of marijuana arrests throughout New Jersey and the state legislature has constructed the statute to cast a broad net over all kinds of activity involving the use and possession of marijuana. Typically marijuana is a disorderly persons offense if the amount or total weight is under 50 grams. However, marijuana charges can easily be upgraded to indictable felony offenses if you are charged with intent to distribute marijuana, distribution of marijuana in a school zone or marijuana distribution within 500 ft of a public park. The New Jersey statute for simple possession of marijuana is provided in pertinent part below for your convenience:
§ 2C:35-10. Possession, use or being under the influence, or failure to make lawful disposition
(4) Possession of fifty (50) grams of less of marijuana, including any adulterants or dilutants, is a disorderly persons offense.
As illustrated above, possession of marijuana under 50 grams is a disorderly persons offense, which is punishable by up to 6 months in jail and a $1000 fine. However, because marijuana possession is a drug related offense you will also face a license suspension of up to two years and thousands of additional mandatory assessments to the state.
North Bergen NJ Marijuana Defense Lawyer
Most people find it hard to believe but New Jersey law does not differentiate between marijuana shake from a grinder and an ounce of marijuana – as long as there is enough substance to test, both examples are guilty of simple possession of marijuana under 50 grams. Marijuana cases can be difficult and can involve complicated suppression issues such as probable cause for the motor vehicle stop, an illegal search and seizure of evidence, or Miranda violations for incriminating statements. Our criminal defense lawyers know the court system and know what it takes to properly defend a marijuana case. We represent clients for marijuana offenses throughout New Jersey including North Bergen, Bloomfield, West New York, Harrison, Belleville, Nutley, and Guttenberg. If you would like to speak with an experienced marijuana defense attorney, then contact us today at (201) 793-8018 for a free consultation or to schedule an appointment at our Jersey City office.