DWI School Zone Charges in Hoboken, NJ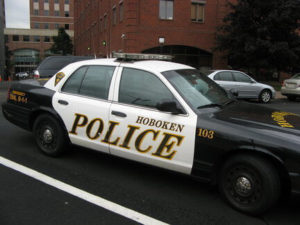 When it comes to issuing DWI and DUI Refusal charges in Hoboken, the police department is usually more reactive rather than proactive. That means the good news for potential party goers is that the cops are normally not actively patrolling the city looking for suspected intoxicated drivers or setting up DWI checkpoints like some smaller towns. However, don't be fooled because Hoboken still issues its fair share of DWI charges. In fact, Hoboken Police normally make several DUI arrests every weekend. These arrests are typically the result of car accidents when the cops find an intoxicated driver behind the wheel who failed to navigate one of Hoboken's narrow car-packed streets. And if a DWI charge wasn't bad enough by itself – Hoboken police are also notorious for issuing DWI in School Zone charges to all suspected drunk drivers since the 1 square mile city is almost entirely engulfed in school zones. It is also important to note that a separate summons for leaving the scene of an accident will be issued if the person continued to drive after a fender bender.
Know Your Rights & Defenses to a DUI in Hoboken
If you have been charged or arrested for DWI in Hoboken, New Jersey it is important that you know the penalties you are facing and your options. A conviction or guilty plea to a DUI will result in a mandatory ignition interlock device and possibly loss of your driver's license, which can be up 6 months, even for a first time offender. Additional consequences can include community service, mandatory drunk driving classes, thousands in fines and surcharges, and even jail time. And the consequences are heightened significantly if it is your second offense, which carries a license suspension of one to two years, plus an ignition interlock device once your license is restored. Third and subsequent DWI offenses are punished the most harshly, with a mandatory suspension of your driving privileges for 8 years, after which you will be required to drive with an ignition interlock device for anywhere from 2 to 4 years.
Client review
Posted by Jon
THE MAN TO HIRE
"Will is extremely knowledgeable and profession. Staff is excellent. Will and his team did everything they could and ended up getting the case dropped. Thanks Will."
An experienced New Jersey DWI defense attorney can challenge the state's case against you to create leverage in an effort to downgrade DUI charge or even get it dismissed completely. At Proetta & Oliver, we have successfully handled literally hundreds of DWI cases over years throughout Hudson County and New Jersey. The firm's founding attorney, Will Proetta, has specialized DWI defense credentials which include certification as a Standard Field Sobriety Testing Instructor and certified Alcotest operator as trained by the manufacturer, Draeger. If you would like to learn more about how we can help you or your loved one then please contact us at (201) 793-8018 for a free initial consultation with an experienced DUI lawyer who can answer your questions.
What Happens After My DWI Arrest in Hoboken?
Hoboken has become a popular and thriving city for young professionals who work in New York City and the surrounding area. It has also become a center for nightlife with dozens of bars, nightclubs, and restaurants that are found on almost every block. This in turn results in a large amount of drunk driver arrests in the city of Hoboken every year. If you have been arrested and charged with driving while intoxicated in Hoboken, New Jersey then you will most likely be required to appear in the Hoboken Municipal Court which is located at 100 Newark St., Hoboken, NJ 07030. The Hoboken Municipal Court conducts business on the first floor of City Hall and is in session on Tuesday, Wednesday, and Thursday beginning at 9 a.m. Night court is also held once a week on Tuesday evening starting at 6 p.m. It is always good idea to arrive at court before 9 a.m. if possible and check in because it can get very busy. It is also highly recommended that you retain a DUI defense lawyer well in advance of your court date. The Hoboken Municipal Court telephone number is (201) 420-2120 & 2121 and the court administrator is Rose Ann Gohde. The court can also be reached by facsimile at (201) 420-2138. Chief Judge Michael A. Mongiello and Judge Cataldo F. Fazio hear all municipal court matters including DWI charges.
DUI Lawyers in Hoboken New Jersey
After reading this article, it should be no secret to you that DWI offenses are some of the most severe and difficult charges to challenge in New Jersey. In addition to the mandatory penalties, the state does not allow any plea bargaining whatsoever for individuals charged with DUI. Moreover, defendants cannot get a jury trial – unlike other states –instead the municipal judge has exclusive rule over the merits and proofs of the case. On top of all of this, the administrative office of the courts (AOC) mandates that the municipal courts resolve these cases within 60 days of the DWI arrest. This can often times hurt the defendant by not giving you enough time to receive all the evidence, properly analyze everything, and present a thorough defense. If you get an experienced DWI attorney involved early on you put yourself in a much better position to resolve the charges successfully. If you would like to contact our Jersey City office, call us at (201) 793-8018 for a free initial consultation with an experienced DWI defense lawyer who can explain your options and address your concerns.