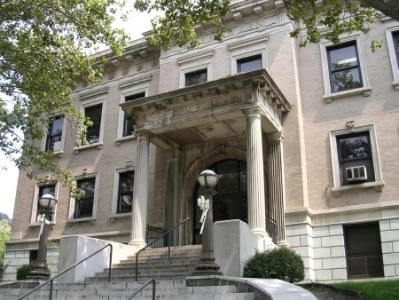 Proetta & Oliver is a Hudson County defense firm that represents clients charged with criminal and serious traffic offenses in Weehawken, New Jersey. As founding attorney, Will Proetta, Esq., has successfully handled well over 1,000 criminal, DWI, and motor vehicle cases during his career. We typically defend clients in Weehawken who have been charged with Disorderly Conduct, Simple Assault, Possession of Marijuana, Harassment, and Theft. These charges can carry serious penalties such as probation, loss of your driver's license, high fines, and even county jail. Our firm puts our client's well-being at top priority and we will aggressively defend your charges by pinpointing weaknesses in the State's evidence against you to negotiate a downgrade or dismissal. If you are interested in speaking with a Weehawken defense lawyer then contact our office located in nearby Jersey City at (201) 793-8018.
Weehawken Municipal Court Hours of Operation
The Weehawken Township Municipal Court is located at 400 Park Avenue, Weehawken, NJ 07086. Weehawken Municipal Court holds normal hours of operation Monday thru Friday from 9:00 a.m. to 4:00 p.m. for people looking to post bail or make payments. Your court appearance will be scheduled on a designated time and date and it is important that you arrive on time and are prepared to pay for your fines. If you have questions regarding your upcoming court appearance or would like to request an adjournment you can contact the Weehawken Municipal at (201) 319-6028 and speak with Karen Hablitz the court administrator. The court can also be contacted via facsimile at (201) 806-6850. Judge Charles P. Daglian oversees all the municipal court cases in Weehawken such as disorderly persons offenses, traffic tickets, and municipal ordinances.
Where is Weehawken Township, New Jersey?
Weehawken is a township in Hudson County, New Jersey that is only about 0.8 square miles in land area with a total population of about 12,500. Weehawken is part of the New York metropolitan area, situated on the western shore of the Hudson River, along the southern end of the New Jersey Palisades across from Midtown Manhattan, it is the location of the western terminus of the Lincoln Tunnel. Weehawken is one of the towns that comprise North Hudson, sometimes called NoHu in the artistic community. Route 495 travels east-west between the Lincoln Tunnel and the New Jersey Turnpike with interchanges for Route 3 and U.S. Route 1/9. If you like more information on Weehawken, New Jersey please visit their website at http://www.weehawken-nj.us/
Weehawken NJ Marijuana Defense Lawyers
Every year, Weehawken processes hundreds of motor vehicle tickets including DWI, Driving without Insurance, Leaving the Scene of an Accident, and Driving While Suspended. A conviction for any one of these offenses carries suspension of driver's license, not to mention DMV points, and ultimately higher insurance rates. Proetta & Oliver is committed to representing our clients against criminal and municipal court charges. Our office prides itself on working closely with our clients throughout the entire case so you can be involved in the decision making. If you would like to discuss the details of your case with a Weehawken criminal defense attorney then contact our Jersey City Office today at (201) 793-8018.