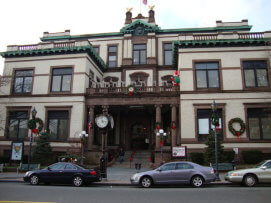 Hoboken NJ Criminal Lawyers
Hoboken has become a popular residency for young affluent professionals freshly out of school and has a huge nightlife scene including bars, restaurants, and lounges. This creates a lot of alcohol related incidents especially around the holidays like St. Patty's Day in particular. Proetta & Oliver is a Hudson County Law Firm that practices exclusively criminal, DWI, and traffic defense. Common charges that we defend in Hoboken include Disorderly Conduct, Simple Assault, Criminal Mischief and Possession of Marijuana. We will work with you step by step through the entire process to ensure that you receive the best outcome allowable under the law. If you would like to discuss the details of your case with a Hoboken criminal defense attorney then contact our Jersey City office at (201) 793-8018 for a free consultation.
Information on Hoboken Municipal Court
The Hoboken Municipal Court is located at 100 Newark St., Hoboken, NJ07030. Hoboken Municipal Court conducts business on the first floor of City Hall and is in session on Tuesday, Wednesday, and Thursday beginning at 9 a.m. Night court is also held once a week on Tuesday evening starting at 6 p.m. It is always good idea to arrive at court before 9 a.m. if possible and check in because it can get very busy. The court maintains normal business hours for the payment window (on the ground floor of City Hall) Monday thru Friday from 8 a.m. until 4 p.m. and extended hours on Tuesday until 9 p.m. If you have a request for an adjournment it is strongly recommended that you contact the court several days beforehand. The Hoboken Municipal Court telephone number is (201) 420-2120 and the court administrator is Kerri Azzoline. The court can also be reached by facsimile at (201) 420-2138. Chief Judge Michael A. Mongiello and Judge Cataldo F. Fazio hear all disorderly persons offense, motor vehicle tickets, and city ordinances before the municipal court.
More About Hoboken New Jersey
Hoboken is a city in Hudson County, New Jersey that is about 1.2 square miles in size and has a population of about 50,000 because of this sometimes referred to as "the mile square city". Hoboken is part of the New York metropolitan area and contains Hoboken Terminal, a major transportation hub for the region, which makes it ideal for young professionals who work in New York City. In fact, Hoboken has the highest public transportation use of any city in the United States. Hoboken Municipal Court is often busy with all the surrounding urban areas and mass highways, such as the Lincoln Tunnel which is just north and the Holland Tunnel to the south. If you would like learn more information about Hoboken City you can visit the official site at http://www.hobokennj.org/
Hoboken NJ Disorderly Conduct Lawyer
If you have been charged with a disorderly persons offense (misdemeanor) or serious motor vehicle such as DWI, Driving While Suspended, Leaving the Scene of an Accident, or Driving Uninsured you are facing severe punishments which include loss of your driving privileges, community service, probation and even county jail. Therefore, it is important that you hire an experienced defense attorney lawyer who navigate the court system and successfully resolve your case. The firm's founding attorney, William A. Proetta, Esq. has handled well over 1,000 criminal and motor vehicle cases during his career. Our office is conveniently located in Jersey City and we offer an initial consultation for free so give us a call today at (201) 793-8018 if you would like to learn more about how we can help you.